Description
This page is for estimation purposes only, and upon check-out an estimate will be emailed to you.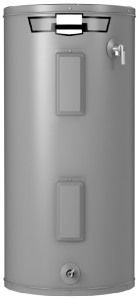 50 gallon (189 litres)
Diffuser dip tube, to mitigate sediment buildup
Glass coating on tank
CFC-free foam insulation and insulated base
Thermostatically controlled elements
Magnesium anode, with stainless steel core
Tank height: 48.75″ (124 cm)
Tank diameter: 22″ (56 cm)
Weight: 125 lbs (57 kg)
The model depicted may not look exactly like the product delivered.  Due to the fluctuating dollar, the water tank price will be verified prior to delivery and installation.
* Price includes provincial sales tax (PST).
* Installation not included, a tank replacement call needs to be added.